With summer just around the corner, it is time to shop for the best-suited summer sarees suitable for heat. The most important aspect when draping in summers is comfort. During summer, it is best to wear the most breathable fabrics. Here are some of the drapes for summer 2021.
7 casual sarees for summer
1. MUL MUL
The saree that gets softer with every wash, mulmul sarees are summer-friendly. The fabric is a fine weave of cotton, breathable, and is feather-light. MulMul sarees are stylish and best suited for any casual outing.
2. BHUJODI
Kala cotton (organic cotton) from the Weaves of Bhujodi, they are not only great for summer but are also sustainable. The organic cotton that is used to weave bhujodi saree is grown without the use of irrigation, chemical fertilizers, and pesticides.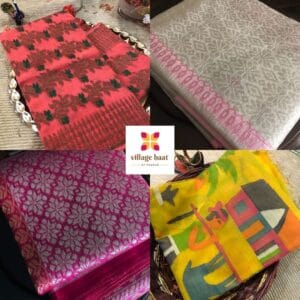 3. LINEN
Linen is the perfect fabric for the hottest temperature. It is breathable, allowing between the fibres. Linen saree is perfect if you suffer from overheating or need to stay cool at work or on days out.
4. KHADI
Khadi sari is one of the most comfortable drapes worn in the hottest temperatures, they are breathable, light, and keeps the body cool. The fabric is natural and is handspun and handwoven.
5. ORGANZA
Organza sarees are a perfect combination of elegance and comfort. They are not only incredibly light, flowy but are best for summer weddings.
6. CHANDERI
Perfect for Indian summers, chanderi sarees are light weight and comfortable. They are soft against your skin and are airy to suit hot temperatures.
7. ZARI KOTA
Kota sarees are the most breathable weave to drape in summer. They are from villages situated in the southern parts of Rajasthan with several clusters which have been weaving delicate muslin sarees, called Kota Doria. They are lightweight and come in both casual and party wear. When in doubt drape yourself in pure handwoven zari Kota sari.
Shop exclusive sarees for summer 2021 from www.villagehaat.store.