A Banarasi sari is one made in Varanasi, also known as an ancient city Benares. These sarees are some of the finest sarees in India. Banarasi silk sarees have long been one of the most popular choices for displaying royalty in the history of sarees. With its intricate weaving and designing craftsmanship, the Mughal Empire introduced Banarasi silk to India. Today\'s Banarasi silk is a blend of two distinct cultures: Mughal and Indian. Silk for this saree was originally imported from China, but it is now sourced from the southern parts of India. Banarasi sarees are known for their rich weaves and elegance among women all over the country.
The majority of these graceful Banarasi sarees are made in Banaras, now Varanasi\'s cottage industries. Varanasi is now a well-known saree weaving destination, where saree weaving has become a family tradition, with the majority of family members being experts at designing intricate motifs onto a Banarasi saree.
Banarasi sarees are frequently included in an Indian bride\'s vesture. A sari can take anywhere from 15 days to a month, and sometimes up to six months to complete, depending on the complexity of its designs and patterns. Indian women typically wear Banarasi saris for special occasions such as weddings, and they are expected to be enhanced by the woman\'s finest jewelry. Furthermore, these saris have a unique geometric pattern that goes well with happy occasions and celebrations. Here are some popular types of Banarasi saree for you

Types of Banarasi Saree
Pure Silk (Katan): Katan is a plain-weave fabric made entirely of silk threads. Katan silk yarn, as it is known in Varanasi, is made by twisting various silk filaments, making it extremely strong and long-lasting.
It's handwoven with a warp and weft of pure silk. Banarasi is known all over the world for this silk fabric, which is extremely fine, soft, and glossy.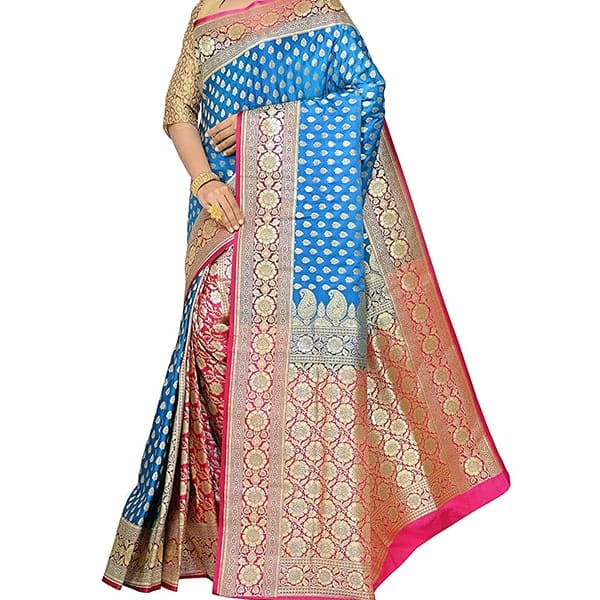 Organza Silk Saree with Zari: Organza Silk sarees are traditionally made of yarn, which is created by tightly twisting different threads and then weaving them together to give the sarees their firm structure and gloss.
The richness of the aesthetic, as well as the significant influence of the material, which features rich zari work in prominent gold and silver tones, make this variation stand out. The smooth, silky, and shiny banarasi sarees with rich embroidery in organza fabric with zari and silk are an ideal choice for stealing the show!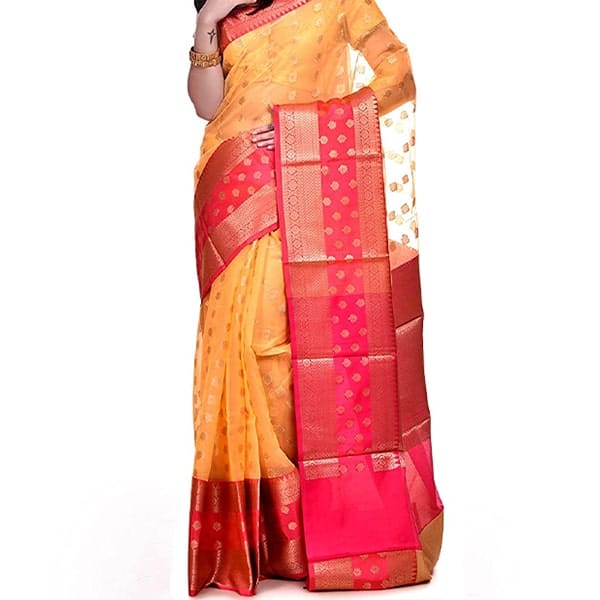 Georgette Banarasi Sarees: Georgette is a fabric made from finely twisted yarns that used to be made of silk. It's one of the lightest fabrics available and is weaved into stunning Banarasi georgette sarees with particular flair.
With their contemporary and luscious yet comfortable appeal, the silky georgette fabric, made of crepe yarn, makes these Banarasi sarees a joy to drape.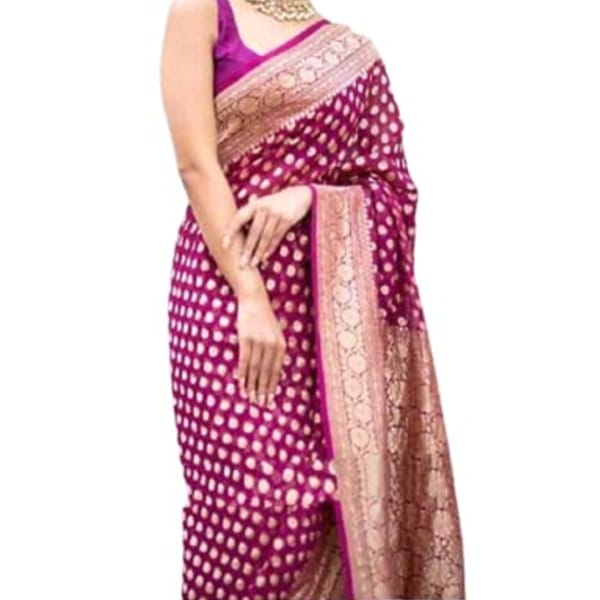 Shattir: Under the name Banarasi, Shattir is the only fabric used to create contemporary and exclusive designs. Shattir Banarasi sarees, which are lighter and less sophisticated than Katan Banarasi sarees, may aid in the integration of Banarasi sarees into mainstream everyday modern fashion.
Cutwork Banarasi Sarees: After the floated thread has been removed, these Banarasi sarees are made using the cutwork technique on a plain textured fabric. Cutwork Banarasis are often touted as the less expensive version of Jamdani sarees, with a pattern that runs from selvage to selvage and is allowed to hang loosely between the motifs before the excess thread is cut off.
Cutwork sarees are made by combining a certain number of warp threads with cotton and regular weft to create intricate traditional designs. Cutwork sarees frequently feature jasmine, marigold flowers, creepers, and leaves as motifs.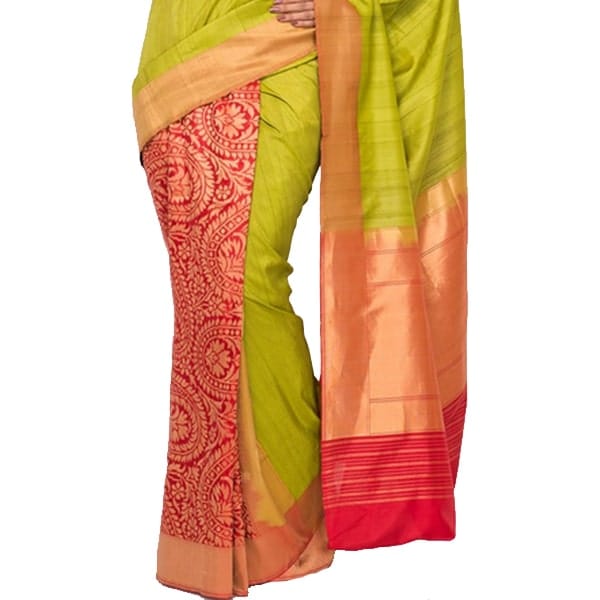 Jangla Banarasi Sarees: Jangla Banarasi saree gets its name from the word 'jungle' and the motifs of vegetation that can be found all over the saree. The intricate weaving of motifs and patterns distinguishes the dense zari work on a Jangla saree.
Hunting scenes, animals, birds, and human figures are among the prints on display, evoking ancient activities. With their highly intricately woven border and hem, Jangla banarasi silk sarees are ideal for making eccentric statements at weddings that are high on the exotic result as well as the grandeur.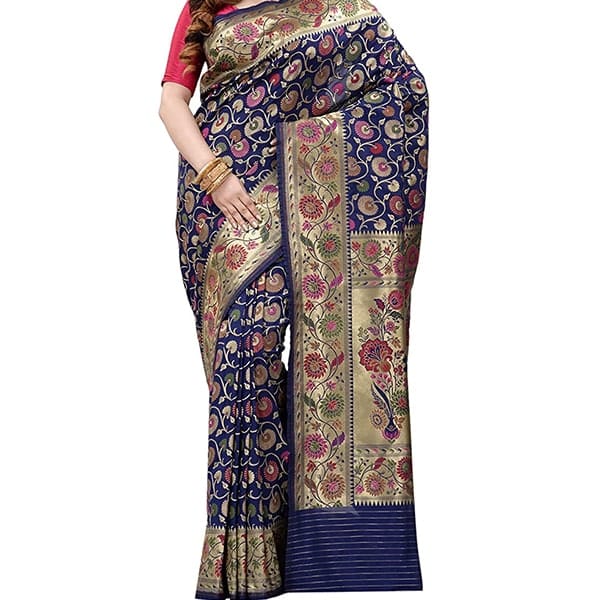 Butidar Banarasi Saree: The Buta or Buti can be found all over Butidar sarees. The Karhwa/Fekua weaving technique is responsible for its appearance. Gold, silver, and silk brocades run through the Butidar sarees, which are made of a densely woven Banarasi. This variety is known as the Ganga- Jamuna because the gold brocading is a much darker shade than the silver brocading.
Reshem Butti Jhummar Butti, Jhari Butta, Kalma Butti, Angoor Bail, Gojar Bail, Luttar Bail, Khulta Bail, Baluchar Bail, Mehrab Bail, Doller Butti, Ashrafi Butti, Latiffa Butti, Patti Butti, Lichhi Butti and many more are among the many traditional designs and motifs that make up this dense work of art.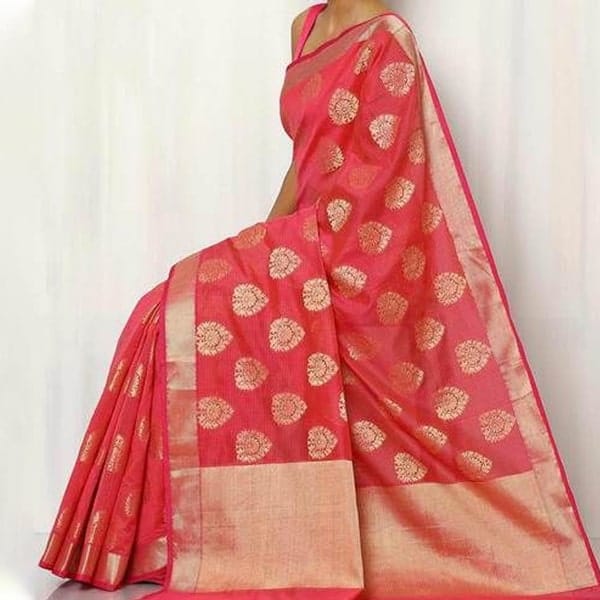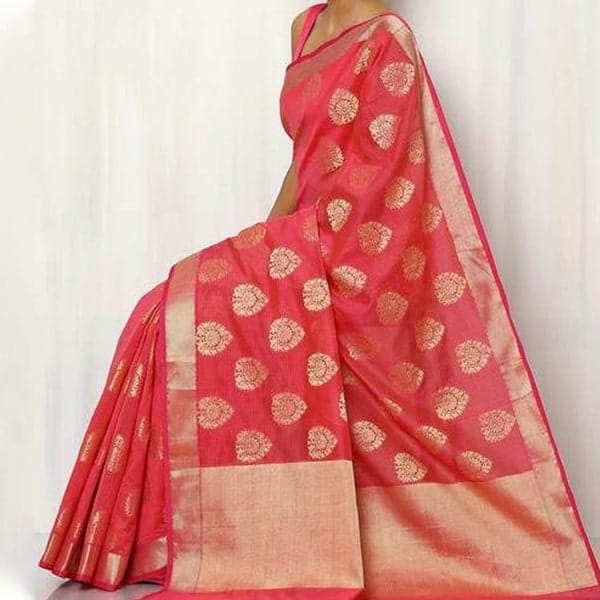 Tanchoi Banarasi Sarees: Tanchoi weaving is a complex and sophisticated technique that employs a few twists and two to five different weft colors. These sarees are incredibly lightweight and simple to wrap.
These Banarasi sarees are known for their intricately woven Jamawar paisleys, which often take the form of a maze. The silky etched finish achieved by the Jamawar weaved into the fabric is more glamorous and has the perfect appearance.
We hope, you have got the all info and inspiration you need. These are the most basic types of Banarasi saree that you can proudly wear. Before you completely abandon Banarasi sarees, take a look at these variations to see which one best suits you. At VillageHaat, you can see an authentic collection of Banarasi silk sarees in a variety of styles.